Come for the value, stay for the friends
Membership here will support you as you build and grow your practice. You can mentor and be mentored; become engaged and stay connected with the legal community. But more than that, this Bar offers the kind of value you can't find just anywhere: it's the people. You will develop friendships that will last a lifetime.
This is your Bar ~ You Belong Here.
Your  membership will automatically connect you to a Section at no extra cost, where you will find those connections right away. Consider a Board of Trustees Committee to take an active part in implementing our vision for our profession and our practices, and meet others of like mind.  Receive real time updates from the Bench right here on our website Order in the Court, or by following us on social media. Utilize our Jobs Board to post your job announcements or to seek employment opportunities in the legal field throughout California. Connect with other Bar Associations through our regional partnerships.
Yes, of course you can get all your MCLE credits through our award winning CLE programs that can be attended live, virtually, or accessed 24x7 on your computer or any of your mobile devices through our Online Catalog.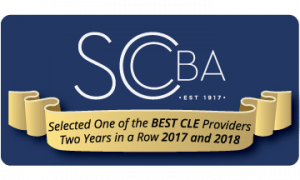 Free, Single Sign On online legal research with Fastcase & InReach
Meet, interact, and collaborate with superior court, district court & appellate court judges
Develop leadership skills and advance your professional career: become an Arbitrator, or a Special Master
Generate revenue and expand your practice by joining our lawyer referral service
Improve and change existing law by joining our Conference of Delegates
Enjoy heightened credibility through our  local, state & national reputation for Professionalism & Civility
CREATE NEW MEMBERSHIP OR GUEST ACCOUNT
New membership includes membership through December 31, 2022
QUESTIONS?
Contact Tanwi Negi
Email Tanwi
Professional Liability – Protect Yourself and Your Career.
Association Member Benefits Advisors (AMBA) and the SCCBA are working together to provide members with direct access to this outstanding Lawyers Professional Liability Program, sponsored by the State Bar of California. You benefit from the State Bar's buying power and oversight committee.
Easy Short-Form Application
Competitive Rates
Free On-Line MCLE
Optional Cyber Liability Coverage
It's fast and easy to get a quote. Just complete and return the application and return this supplemental questionnaire to AMBA via email or fax.
Please note Mercer's Association business was acquired by Association Member Benefits Advisors (AMBA). As part of this transition, you may see both the Mercer and AMBA names/logos.
Clio's industry-leading, cloud-based legal practice management and client intake + legal CRM software streamlines law firm
operations, improves productivity, and enables legal professionals to increase their revenues from one central location. With powerful
tools for client intake, case management, document management, time tracking, invoicing, and online payments, Clio simplifies firm
management so you can spend more time doing what you do best—practicing law.
Approved by more than 78 bar associations and legal societies, Clio provides industry-leading security, 24/5 customer support,
and 200+ integrations with legal professionals' favorite apps and platforms, including Fastcase, Dropbox, Quickbooks, and Google
Apps. SCCBA members are eligible to receive a 10% discount on Clio products.
Leverage Fastcase's data to bolster your firm's research and analytics projects. Filter information to retrieve information using library types such as statutes or regulations, and keywords such as "COVID-19" or "Class Action".